About Us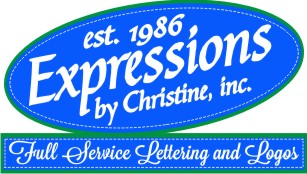 Hello and welcome to Expressions by Christine. I'm Christine the founder, owner, and operator of Expressions by Christine, Inc. Our online presence, is the latest chapter in our story that began over 30 years ago.
In 1980 I moved from Camp Point, Illinois, my home town, to Quincy, Illinois to attend Gem City College. While I earned one degree in accounting and another in business administration, I worked at Boyer's Shoe Repair and nurtured my dream of owning my own business.
I gained a lot of practical experience while working at Boyer's to complement what I learned in class. The most valuable of these lessons were salesmanship and the importance of integrity, dependability, and responsibility when dealing with customers. Of course I also saw first-hand the daily requirements of running a business.
Opportunity knocked when I became aware of the possibilities of computer assisted embroidery and monogramming services. For the most part, the embroidery and monogramming industry is divided between a cottage industry of very small operators on the one hand and huge bulk operations that import large quantities of embroidered or monogrammed articles from overseas on the other.
It seemed to me that there was room in between those two extremes for a company that could provide the individual service, attention to detail, speed of delivery, and quality of the small shops and yet deliver the order volume, reliable delivery schedules, and financial performance of the large importers. Several months of market research confirmed this so, in 1986, I took out a $25,000 loan to purchase a single-head computerized embroidery/monogramming machine and opened Expressions by Christine at 236 North 12th Street in Quincy.
We quickly outgrew our small shop and moved to larger premises at 208 North 6th Street in 1989. This larger shop allowed us to add another computerized embroidery machine, sewing machines, and a digitizing system so we could create our own custom embroidery designs. By this time, Expressions was a strong and growing concern with a staff of four in addition to myself. We were also adding tackle twill and chenille services to our embroidery/monogramming services.
In 1993, the year of the great Mississippi flood, we computerized our back-end office operations which streamlined operations and allowed us to take on new business and expand service yet again. We continued growing and in 1996 we moved again to a larger shop at 711 Maine Street. After adding a third and fourth embroidery machine, more chenilling machines, a shop-wide computer network, 2 computer controlled fabric cutters and more employees (currently 19 in total), we bought the building our shop is in and began remodeling the other floors into additional production and storage space and more comfortable employee facilities.
Expressions became Expressions by Christine, Inc. when we incorporated as an Illinois corporation in 2000. As we exist right now, Expressions by Christine has grown to include:
9 employees
computerized embroidery machines
computerized fabric cutters
computerized and hand sewing stations
computerized chenilling stations
a complete sublimation printing operation
a complete in-shop screening and heat press operation
portable screening and heat press capability for printing on-site at your tournaments, events, and special occasions
$375,000 in annual sales

Looking back, I'm proud that my team and I have built Expressions into the firm it is today. I'm particularly proud of our reputation for quality workmanship and quick, reliable turn-around on all our customer orders. The future of Expressions is even brighter as we continue growing. Future plans include the ongoing renovation of our facilities, the addition of our first multi-head embroidery machine, complimenting our current services with silk screening capabilities, and, of course, this web site.
Thank you for your interest,
Christine Kaiser, President